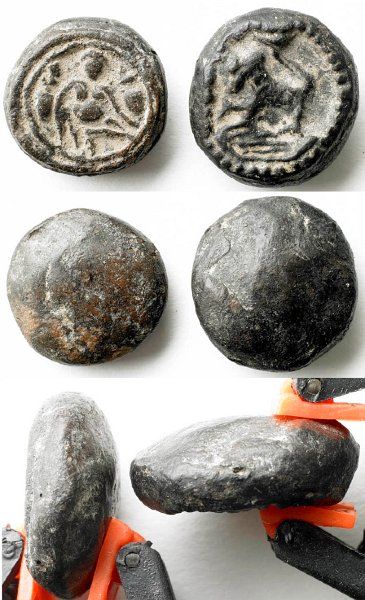 I am guessing that a few readers of these forums have knocked about S.E.Asia collecting as they go.
I have been meaning to find out about these 2 coins for the last 25 years.
The image on one is a Buddha and a Dragon on the second.
I cannot find an exact match anywhere but Thai clay coins seem the nearest I could come up with.
They are called Prakab (Baked Clay Coins) The nearest ref. I could find were these brown ones ,half way down this page
http://www.coincoin.com/seXX4.htm
Under the reference to COWRIE CURRENCIE. M2867
Which dates them as Prakab Kingdom of Ayuthia, King Boromakot 1733-58
It is interesting that both the ones for sale and mine have the same type of fingerprints visible on the back.
I bought them in an old shabby/smelly antique shop in Changmai 25 years ago. I actually bought a quite a few items (cheap as chips) from the shop including fake opium pipes and some real ( they were stopped in customs when shipped). Also head dresses, elephants jaw bones and lots of nik-naks for my job as a food photographer.
There was a bowl that contained about 30 of these "coins" and I added them to the rest of my purchase.
When the old lady got to the bowl she shook her head and indicated that they were going to be much more than all the rest of my purchases put together.
Now I know the old ruse of pretending that something is worth a lot to sell it but the old lady seemed more than happy with me just buying 2, and keeping the rest for someone who knew what they were looking at.
They were not going to capture many peoples eye.
Its seems just too complicated to bother faking such an item. There are old Thai coinage that are a lot more interesting.
They were about $15 each.
I have seen similar in the Grand Palace museum.
Any information would be great
Thanks