Two men raped and murdered a woman because of "depraved sexual lust and greed", a court has heard.

The body of Quyen Ngoc Nguyen, 29, from Killingworth, was found in a burning car in Shiney Row, Wearside, in August.

Stephen Unwin, 39, of St Oswald's Terrace, Houghton-le-Spring, and William McFall, 50, of Waterloo Road, Blackpool, deny murder and rape.

Newcastle Crown Court was told forensic evidence suggested she was "just alive" at the time her car was set alight.

Ms Nguyen, who had come to the UK in 2010 from Vietnam, helped her sister run a nail salon in Gateshead.


There was also a "secret" element of her life, renting properties for people without the correct immigration documents - some of which were used to cultivate cannabis.

She had met Mr Unwin through his job working for a landlord, and was seen on CCTV arriving at his home in Shiney Row on the evening of 14 August.

Image caption
The burning car was found in the early hours close to allotments
The prosecution said that she was led into a "trap" and held captive for more than four "terrifying hours" by him and Mr McFall, who frequently worked together maintaining properties.

There was evidence she had been sexually abused and raped, and she was forced to reveal her bank card PINs before being dumped in a burning car down an unlit lane close to some allotments.

A total of £1,000 was withdrawn using her two bank cards, before and after her death.

The court was told that the accused had been stealing drug crops to sell on, and had filmed themselves a month before the murder at a cannabis farm, speaking in mock Oriental accents.

Jamie Hill QC, prosecuting, said: "We anticipate they will seek to blame one another for causing Miss Nguyen's death.

"It is our case that they share joint responsibility for a murder that was motivated by a depraved sexual lust and financial greed."

The trial continues.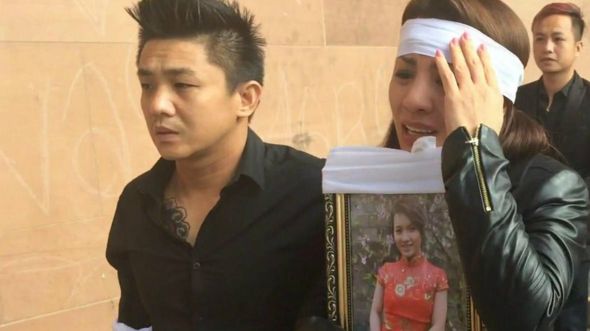 http://www.bbc.com/news/uk-england-tyne-43142098