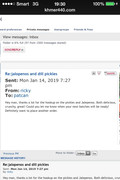 Another satisfied customer....My rooftop and balcony garden is focusing on growing dill. Only this dill is used in my dill pickles....none is bought in the market. I presently have about 20 dill buckets in the fridge and am targetting 50 buckets per month at this stage.
As for the jalopenos...they are from Thailand and I don't know where to source any here yet. A friend of mine, Tom, just arrived from Australia and is growing them on his farm. They should be ready in a few months so I foresee pickling more jalopenos at that time.
Thanks for your business Ricky and I am glad you like both the dills and jalopenos.