I ran across something interesting on Facebook a few weeks back that I've been meaning to post about. Back in August 2004, a British guy named Michael Taylor (aka Mick Taylor, aka "Mick the Pom") was
arrested
for murder in Phuket, Thailand.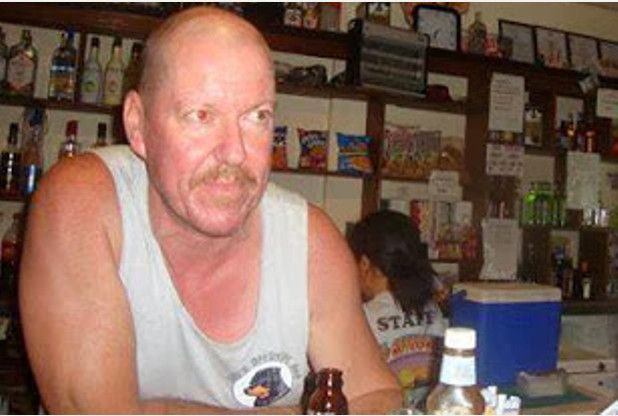 He allegedly fatally stabbed his girlfriend, Jantra Weangta, through the heart. She was found dead in the rented bungalow they shared. Taylor denied the charge and claimed to have an alibi. His alibi was -- and I'm not making this up -- that he was
having sex with a ladyboy
on the beach at the time of the murder.
The press reported that the evidence against Taylor included bloody trousers, a large Bowie knife, and thirteen witnesses. The news reports did not say whether the trousers or knife belonged to Taylor, or if there were fingerprints or blood on the knife, or what the thirteen witnesses claimed to know about the murder.
Taylor
appeared in court
for a hearing in January 2005, but his case was adjourned until October 2006 so that the parties could have more time to interview witnesses and examine the evidence. In 2006, the Thais
granted Taylor bail
after he posted the title to land worth 400,000 baht. Not surprisingly, after being released on bail, Taylor
skipped a subsequent court hearing
and disappeared.
Apparently, Taylor moved to Pundaquit, Philippines, where he began operating a bar called Dog's Offshore Bar. In October 2013, the
Phuket Gazette reported
that Taylor was living openly in the Philippines, using the names "Mick Doggard" or "Mick the Dog."
A few weeks later, someone opened a Facebook account under the name Jantra Weangta for the purpose of trolling Taylor and advocating for "Justice for Jantra."

In March 2014, Taylor was arrested in the Philippines for
overstaying his visa
, and the Philippines authorities detained him pending extradition to Thailand on the murder charge.
That's where things get really weird. About a month later, the
Bangkok Post
and Taylor's hometown newspaper, the
Hull Daily Mail
, reported that Thai police were "too busy" to extradite him. I can't find any press coverage about Taylor after April 2014. As far as I can tell, no one has ever reported on Taylor being released from detention in Philippines, or being extradited to Thailand,or being deported to the United Kingdom.
Fast forward to a few months ago. On October 21, 2015, Facebook troller "Jantra Weangta" posted a screenshot of an October 1 Facebook status update by "
Mick Doggard
." The "Mick Doggard" account appears to be a legitmate Facebook account used by Mick Taylor since 2012. His October 1, 2015 status update contained two photos of a beach and said "another hard day on the beach."
"Jantra Weangta" suggested that the above beach photos in Mick Doggard's (i.e. Taylor's) status update are of Sihanoukville and that this is where Doggard/Taylor is residing.
Doggard/Taylor then responded on October 22, "Who ever make this site could u please keep up to date I am in Thailand now and have no problem with friends or police."
How in the world could Taylor be living openly in Thailand, with no problems with the police, after jumping bail there for murdering a Thai woman? Have the Thais dropped the charges, due to evidence being lost during the time Taylor spent on the lam? Did the Philippines simply release Taylor after learning that Thailand wouldn't extradite him? Why wasn't Taylor's release reported on by all the press outlets that had covered the legal proceedings against him?
I don't know if the beach in Doggard/Taylor's October Facebook status update is in Sihanoukville, or if Taylor ever lived there or still lives there. I do know that last year, a totally unreliable Khmer440 poster named "Stains"
posted
that "Mick the Pom" was a "solid bloke" and ex-drinking buddy who "checked out Snooky and PP to set up shop after he bailed from Thailand."
I recently sent a Facebook message myself to the "Jantra Weangta" account asking how he/she knows that Taylor is in Cambodia, and I received a dickish reply calling me lazy and saying "he's either in Sihanoukville or Phnom Penh."