---
Feminist Watch List
Reactions: 3
Posts: 34255
Joined: Thu Sep 23, 2004 7:43 am
Location: mod edit
The text, for lazy people:
How I found myself in the teeming Cambodia capital trying to find two refugees from different countries whom I knew nothing about, not even their names, can be traced back to the eve of the AFL grand final in 2014.
Scott Morrison raised a glass of bubbly at the time to toast spending $55 million of taxpayer's money to relocate refugees from Nauru to Cambodia.
It quickly became clear to journalists corralled behind rope barriers in a cavernous hall of the Ministry of Interior in Phnom Penh that the then immigration minister did not intend to explain anything, or answer any questions about the deal.
"What about to the pay-off (to Cambodia)," a journalist shouted.
The ceremony marked the beginning of a top secret military-style operation that has been condemned by the UN refugee agency, Cambodian opposition MPs, and human rights and refugee groups.
The operation was headed by Major-General Andrew Bottrell, the commander of Australia's Joint Agency Task Force for Operation Sovereign Borders.
Senior Australia officials made many trips to Cambodia and Cambodian officials flew to Nauru at least three times, all in secret.
There were secret high-level meetings in Canberra and Phnom Penh.
A campaign was launched on Nauru to try to convince the hundreds of refugees there that Cambodia was a sort of developing world utopia.
More than 1000 refugees were expected to take-up the offer, and then were dozens, and then just a few.
Requests to the media office of the immigration minister, who was by then Peter Dutton, for information were met with stonewalling.
When journalists learned through refugee advocates in Australia that the first four refugees were about to leave Nauru I rang Dutton's office and pleaded for orderly media arrangements.
There was to be no co-operation.
The refugees were taken to an airport office far-away from the lenses of media crews corralled at an airport entrance (one photographer, though, got an exclusive snap by hiding under bushes), before they were whisked in a van to a then secret luxury villa, where they were to start their new lives.
But there was a problem: a freelance photographer I had hired was following them through the city's crowded streets on his motor cycle.
One official in the van recognised him and rang his mobile telephone to advise that unless he ended the pursuit, he would have trouble getting future assignments in Phnom Penh.
He gave up the chase.
The four refugees disappeared into the obscurity of a city of millions, cared for by the International Organisation for Migration, an international agency which had entered into a multi-million dollar contract with Australia to do the job.
Over months, though, refugee advocates in Australia heard the refugees in Phnom Penh were not happy, with complaints they were kept house-bound and had not received a promised lump-sum payment.
One refugee returned to Myanmar and another arrived and then news leaked out from Cambodian officials in early March that a couple had returned to Iran, prompting renewed interest in the remaining two.
The government defended the $55 million Cambodia deal saying it has been part of its success in stopping the boats.
I was assigned by an editor to interview them, a tall order, given their identities still remained a closely guarded secret by both Australia and Cambodia.
I asked the IOM for help.
"They are free to talk to you but we are not going to suggest it," replied Joe Lowry, the organisation's spokesman in Bangkok.
Facebook provided the first breakthrough.
A refugee source in Australia told me the Iranian refugee's name was Hesam Eskandari, who is known as Daniel.
After trying many name variations I typed in "Daniel Eskandari Phnom Penh," and bingo, up he came, photographed in front of a Cambodian temple.
I sent him a message.
I knew nothing about the Rohingya man but my colleague Nara Lon, a Cambodian fixer and interpreter, knew the location of the villa that Australia had rented, so he went and knocked on the door. The refugees no longer lived there, he was told.
Nara Lon spoke to neighbours and a local village chief. Nobody knew where they had gone.
NGOs and the police were dead ends. I assumed the man was a devout Muslim. Surely he would be known in at least one of the hundreds of mosques in Phnom Penh.
Nara Lon started asking Friday prayer goers in Khmer "does anyone know any refugees who have come from Nauru?"
It was mid-afternoon, when most people had gone, when by a stroke of amazing luck at one mosque Nara Lon approached Mohammad Yusuf, a Rohingya who had lived in Phnom Penh for eight years.
"Yes, Rashid, he's my friend. He's unwell at my house. You can come and see him," Yusuf said.
Mohammad Rashid, 26, was desperate to tell his story when we found him lying on the floor of Yusuf's house.
"I feel unwell, lonely and sad," he said. "I fear that I will die here."
Read more:
http://www.smh.com.au/national/tracking ... z43P3rw3Rr
Follow us: @smh on Twitter | sydneymorningherald on Facebook
ירי ילדים והפצצת אזרחים דורש אומץ, כמו גם הטרדה מינית של עובדי ההוראה.
---
Wun Gwo Pee
Reactions: 0
Posts: 2484
Joined: Thu Dec 25, 2014 8:07 am
The new Australian Ambassador to Cambodia met with the government this week. Here are two of Cambodia's leading English Language newspapers take on the meeting.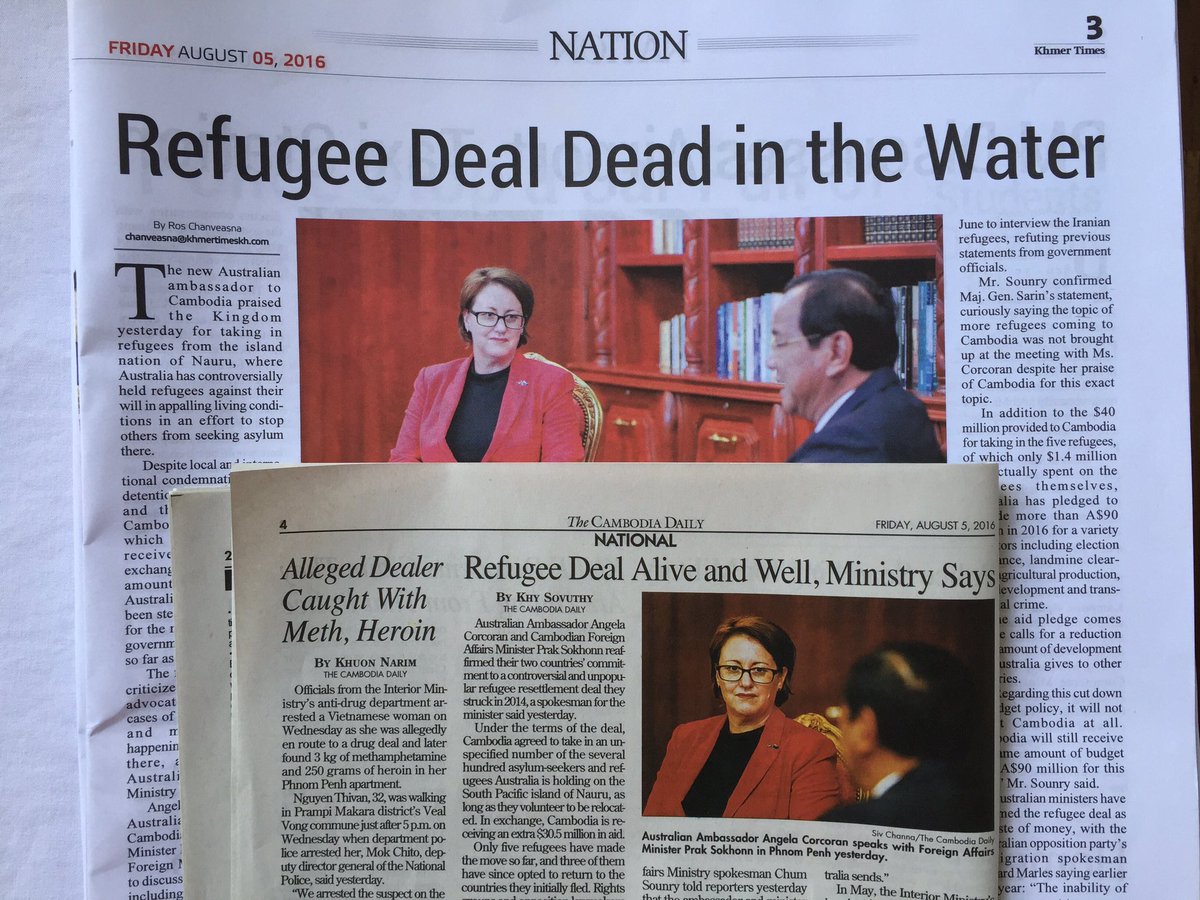 ---
Similar Topics

Replies
Views

Last post