I'll try to explain as simple as I can.
Imagine a big ocean filled with islands. On every island there are people, and those people like to talk to each other. In order to talk to each other the island sends data to another island. Sometimes data passes through different islands on the way to reach its destination, sometimes it's a direct link. It depends on sender and recipient.
Each island is an ISP and the ocean is the Internet. Each island has one or many address spaces. Island A owns A.A.A.X, island B owns B.B.B.X, and island C owns C.C.C.X. Each island tells the other islands (broadcast) their address space so that the islands know that if the message is being sent to A.A.A.X then it should be sent to island A, and any island on the way that is not island A should pass it on to other islands until it reaches island A.
This is an oversimplification of the Border Gateway Protocol, BGP. Each ISP (island) communicates with other ISPs. Some are in the country, some are abroad. Regardless, every island has other islands that they are connected to. Those islands are called peers and the connection between different islands is called peering: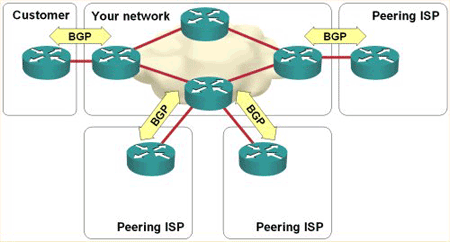 One day a big fat bully island called The Government appears. The Government doesn't want the islands to talk to each other because The Government is scared of what the different people on the different islands are saying about The Government.
So The Government bullies everybody and cuts off their links to each other and tells Island A, B and C that in order to send information to each other, they must send it to The Government. The Government will in turn pass it on, or not, depending on what it decides after reading every message.
You are wrong. There is no deep packet inspection without performance penalty.
ISPs send you the speed from your router to their router. They don't sell you speed based on how fast The Government can analyze your traffic. The monitoring happens on the uplink. ISPs store assignment of IP addresses to customers in
NetFlow logs
and such. So when The Government turns up and says that Island A sent a terrorist love letter from A.A.A.1 to B.B.B.1 then he can bully Island A to reveal the subscriber information that the violating IP was assigned to at the time.
Tor is not only used by criminals. Why did you sign up as "Orichá" instead of using your real name? People use Tor for the same reason. It is not criminal to be anonymous.