---
K440 Knight Captain
Reactions: 458
Posts: 21399
Joined: Fri Mar 04, 2011 12:24 pm
Location: The Pearl of the Orient
What a novel plan, building loads of huge tower blocks.
Romantic Cambodia is dead and gone. It's with McKinley in the grave.
---
I Am Losing It All to the Internet
Reactions: 33
Posts: 1380
Joined: Tue Mar 21, 2006 10:09 pm
Location: Toul Kork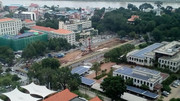 What are they doing/building in this park next to Wat Phnom/US embassy?
Pardon my engrish, thanks you.
---
Underground car parking .
---
once the flow of the rivers has been tamed with all the dams, too numerous to remember how many, i heard theres a controlled level lake planned to clean up the water clarity.

of course all the native animal species will be long extinct so exotic fish species will be introduced and other questionable species will be thrown in by environmental vandals so the european carp should be the next dominant species.
---
Similar Topics

Replies
Views

Last post