The new gambling law was recently passed by the National Assembly. People are speculating whether the online gambling companies will make a comeback.
Offline casinos and integrated resorts are just front companies. Cambodia already got a taste of online gambling. Will they really give up online gambling, after reaping the benefits from developing cities like Sihanoukville?
A large number of online gambling companies in the Philippines are struggling due to the pandemic. "Cambodia's passing of the new gambling law is actually sending a signal to online gambling companies in the Philippines thay may want to return to Cambodia, but it is not easy to say", a source said.
Some said that the fact that the Chinese online gamblers left Cambodia's bubble economy is reflected in the fact that many Cambodian's have become unemployed and struggle to get by. Those who invested in real estate can't pay off large amounts of debt. There is growing social pressure that the government does something to help their situation.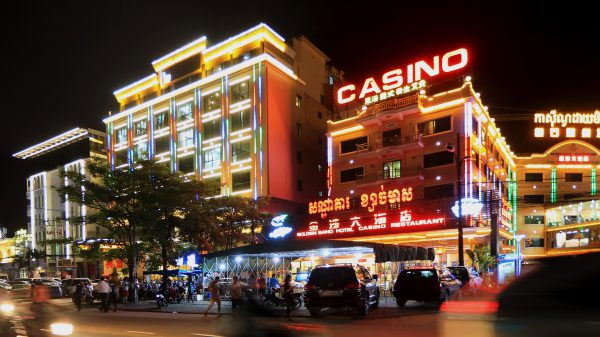 Some gambling companies have returned to Cambodia from the Philippines since the pandemic started. Some companies have moved to relatively remote provinces due to the current environment where online gambling is illegal.
Before the ban on online gambling it was concentrated in cities like Poipet and Sihanoukville. After the ban many companies moved to Dubai, Ukraine and other countries.
Most of the employees of online gambling companies were Chinese before the ban. Currently recruitment agencies are advertising for jobs targeting Cambodians, Vietnamese and Malaysian nationals.
News of the new gambling law was first announced last year by Ministry of Finance officials at the Mekong Gambling Summit. It was expected that the new law would be signed this year, but that it would target physical casinos and not online gambling.
Some analysts believe that the new gambling law has raised the requirements to acquire casino licenses and will strengthen the government's control of casinos.
After the new gambling law triggered speculation about the return of online gambling last year, the Ministry of Finance clarified that the government's ban on online gambling was final and that they did not want the market to doubt its decision.
Prime Minister Hun Sen also emphasized that the Cambodian government will crack down on online gambling. A total ban on online gambling is necessary to maintain social stability and to maintain the friendly relations between Cambodia and China.
The Chinese Embassy in Cambodia issued a statement saying that the ban on online gambling had purified the Cambodian investment environment by restricting and regulating investment and business activities of Chinese people in Cambodia creating favorable conditions for more practical cooperation.