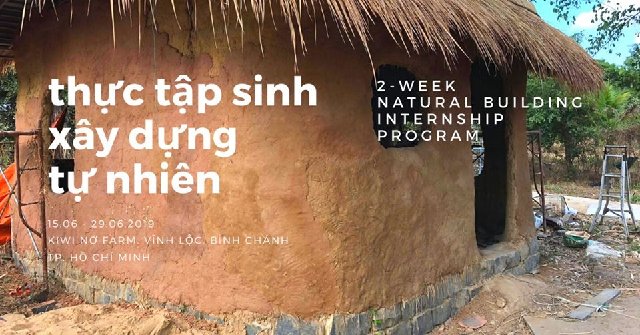 Although the borders are still closed they will probably do more in the future if there is enough interest...
EARTHEN BUILDING INTERNSHIP (JUN15 - JUN29, 2020)
Our first Natural Building Internship program in Southern Vietnam.
This opportunity is for those who are seriously interested in and desire to practice Natural Building in a community of sustainable living.
Interns are going to join the building team at Kiwi Nơ Farm, Binh Chanh, Ho Chi Minh City to practice with an instructor from Lá Library in 2 weeks. After the program, interns may have chances to work with us in other building projects and natural material experimenting ones.
▸ Time: from JUN15 to JUN29, 2020
▸ Duration: 2 weeks
▸ Venue: Kiwi Nơ Farm, Vinh Loc, Binh Chanh, Ho Chi Minh City
CURRICULUM
▸ Stage 1: Materials
- Adobe
- COB
▸ Stage 2: Building with simple structures
- Earthen wall
- Earthen floor (Oil-Sealed COB Floor)
▸ Stage 3: (Advance) Finishing layers
- Applying finishing layers (including water-proofing, mold-prevention and painting).
ACTIVITIES
▸ Interns will follow daily schedule of the building team with 5-6 hours/day (We will go for more details on the orientation day). We're off on Monday.
▸ Tasks will be delegated by the building instructor. We'll try to let everyone experience everything in a building project.
▸ Technical talks will be hold regularly during the program.
LIVING SITUATION
▸ Accommodation: Kiwi Nơ Farm provides simple accommodation with mattress, futon and mosquito net per pax. An outdoor toilet/bathroom is next to the dorm.
▸ Meals: 3 meals per day will be provided. Everyone will join in preparing meals with ingredients from Kiwi Nơ Farm's garden and some from the local market.
TUITION FEE
We ask for a contribution of 2,200,000VND (~ $95) per pax for your 2-week staying in the farm. The fee includes all food during the course, accommodation and instruction.
All proceeds go towards supporting us to grow our local sustainable living community and our sustainable agriculture farm.
To join us, please fill out this form:
https://bit.ly/2XbzsPW
We'll contact you through email within 2 days after your successful submission.
https://www.facebook.com/pg/lalibraryvn ... e_internal