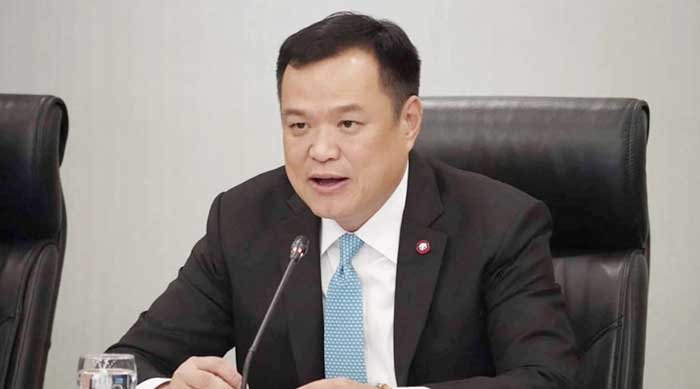 Thailand's Minister of Public Health and Deputy Prime Minister has taken to social media in a savage attack on Westerners.
Many will see his aggressive words on Twitter as a racist assault on legitimate visitors to his country, notes Thaivisa.
He called "farangs" dirty people who don't shower.
He blamed them for fleeing Europe and coming to Thailand potentially spreading the Covid-19 virus.
He advised his countryfolk to avoid them especially as "not a single one was wearing a mask" on a trip he made to Chiang Mai.
Last month, Anutin ranted against a foreigner who wouldn't accept his offer of a free mask in Bangkok.
Now via his Twitter account - Anutin_C - not just renewed his attack on Westerners but gone much, much further.
Thai Rath in their headline referred to this as "Sia Noo's comeback". Sia Noo is the minister's nickname.
He said on Twitter that he had been to Chiang Mai and found there to be virtually no Chinese tourists, just farangs. He said that 90% of Thais in the northern city were wearing masks but not a single "farang" was wearing one.
This is why "their" countries are so badly affected by coronavirus, he claimed.
He advised that Thais should be more wary of Westerners than Asians.
He continued his rant by saying that it is cold in Europe and this is affecting the spread of the virus.
Referring to Westerners with the dismissive term "phuak nee" (this lot) he said that they were fleeing the virus and the cold and coming to Thailand.
Many are shabbily dressed, he said, and they don't take showers.
"We must be careful about them," he said, suggesting that the Westerners had closed off their countries and were avoiding each other.
He also referred to his words last month in condemning foreigners implying that his comments had come home to roost.
https://www.thairath.co.th/news/local/north/1793754