Woke up first thing this morning needing a crap. Got out of bed,back and joints feeling stiff, achilles not loosend up yet.
Pushed open the bathroom door, and let out an "Oh God" as i remembered.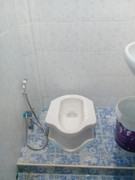 Should i wait and do it in the woods? I thought. It looks so high.
"It's like fugging gymnastics!!", i shouted to the girlfriend, as i propped myself up against the wall with one hand whilst using the gun with the other, trying not to let my 6ft frame fall
over perched on the balls of my feet.
How do they not get nasty overspray everywhere i wondered? Do they have a fighter pilot or navy seal snipers aim? There's water spraying everywhere. Shitting in the woods the other day was so much more civilized and so much easier than perched up here.
They are not for anglo saxons right? Right??